India woke up to a shocking news on Friday morning. Shocking because no one really anticipated this. As details of the encounter of the four accused by Hyderabad Police under dubious circumstances caused controversy, majority of Indians were seen hailing the move. However, the critics expressed reservations against the glorifying custodial death and even called for inquiries. The police have clarified that the killings were in self-defense.
The enquiry will happen in the said matter, however, how much ever we hail the encounter at an emotional level, here is another side, how situations can be created and eventually with media pressure, the police might be forced to award justice themselves.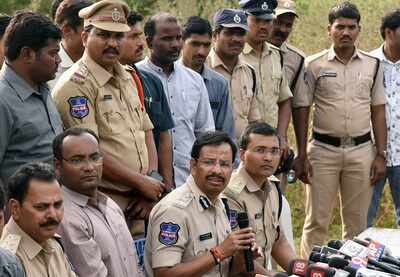 Case From Uttar Pradesh:
A 20-year-old woman, her boyfriend and another man were arrested on Friday after she allegedly faked rape to frame three witnesses in a murder case against her lover
As per local police, the woman, a resident of Agra, had concocted the story upon her boyfriend's insistence
On Wednesday, the woman had alleged that she was gang-raped after which three men — Geetam, Gyanendra and Raja were arrested
The woman had claimed to be on her way to a coaching centre in the Hari Parvat area of Agra when the three accused told her that her brother had met with an accident
The woman claimed they took her in a car and gang-raped her
She had said they later threw her out of the car at a secluded spot
Senior Superintendent of Police Sachindra Patel said,
It was found during investigation that the woman had floated the gangrape story at the behest of her lover. Three men framed by her are witnesses in a murder case in which her boyfriend Anil is an accused.
According to the SSP, the actual story unfolded after persistent questioning of the woman who frequently changed her version.
When many of us are questioning the system in which the encounter took place yesterday in Hyderabad, it is not casting any doubt on the victim or the pain caused to her. If we allow our police to become Bollywood Simmbas, several innocent men will end up being encountered, just because the media and society trusted the woman's word.
All we are asking is, let the judicial system be fixed so that the culprits meet their desired fate by law.
ALSO READ-
http://voiceformenindia.com/in-the-news/vijay-singh-custodial-death-case/
Join our Facebook Group or follow us on social media by clicking on the icons below
Donate to Voice For Men India
Blogging about Equal Rights for Men or writing about Gender Biased Laws is often looked upon as controversial, as many 'perceive' it Anti-Women. Due to this grey area - where we demand Equality in the true sense for all genders - most brands distance themselves from advertising on a portal like ours.
We, therefore, look forward to your support as donors who understand our work and are willing to partner in this endeavour to spread this cause. Do support our work to counter one sided gender biased narratives in the media.
To make an instant donation, click on the "Donate Now" button above. For information regarding donation via Bank Transfer, click here.
Alternately, you can also donate to us via our UPI ID: voiceformenindia@hdfcbank