The Punjab and Haryana High Court in its recent order has observed that a husband has a moral and legal liability to maintain his wife unable to maintain herself, even if he is a professional beggar.
This was a case of interim maintenance order being challenged by the man during the pendency of the divorce matter.
Case:
As reported by Livelaw, the wife of the petitioner had filed for divorce along with an application under Section 24 of the Hindu Marriage Act seeking interim maintenance of Rs 15,000 per month and litigation expense of Rs 11,000 from her husband.
Fully-Abled Husband Has Moral & Legal Responsibility To Pay Wife Even If He Is Unemployed
Trial Court
The said application was allowed by the trial Court and the husband was ordered to pay Rs 5,000 per month to the wife. Along with this, the husband was also additionally ordered to pay Rs 500 per hearing on getting marked her presence before the Court.
Subsequently, the man appealed against this order in the High Court.
Open Letter To Supreme Court of India: Time To Make Women "AtmaNirbhar" & Move To "Rehabilitative Alimony"
Punjab & Haryana High Court
The matter was being heard by the bench of Justice Harminder Singh Madaan who dismissed the plea filed by the husband. The High Court was of the opinion that the husband/petitioner is an able-bodied person and nowadays, even a manual labourer manages to earn Rs 500 or more per day.
The Court added that keeping in view the trend of rising prices and that things of basic needs are getting very costly, the maintenance awarded cannot be said to be on the higher side. Citing Section 24 of the Hindu Marriage Act and dismissing the revision plea of the husband, Justice Madaan said,
Sentenced To 11-Mnths Over Failure Of Rs 3k Maintenance To Fully-Abled Wife, Ailing Husband Dies In Jail
VFMI TAKE:
On one hand, women rights activists cry for equality – No one has any problem with the term 'maintain'
On other hand, men are ordered to pay, even at the cost of humiliation at courts
There is no onus whatsoever on the fully-abled woman to even try and become financially independent
LEAVE YOUR COMMENTS BELOW:
"Even If You Are A Professional Beggar, It Is Your Moral & Legal Responsibility To Maintain Wife": Punjab & Haryana HC

▪️Justice Harminder Singh Madaan to husband: "Nowadays, even manual labourer manages to earn Rs 500 or more per day"#VoiceForMenhttps://t.co/mZemGOF9oQ

— Voice For Men India (@voiceformenind) March 31, 2023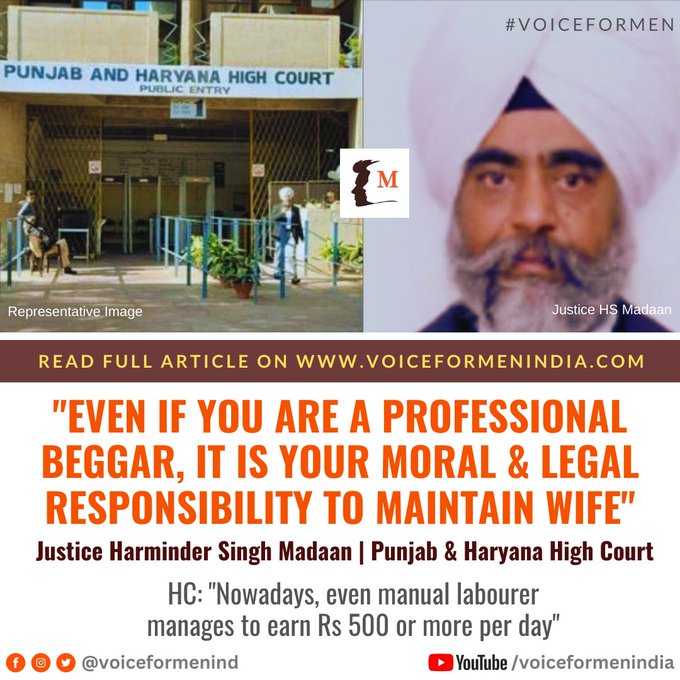 MUST WATCH:
Ashwini Upadhyay Wants Computerized Calculation For Maintenance To Women | Who Will Check Perjury?
Join our Facebook Group or follow us on social media by clicking on the icons below
Donate to Voice For Men India
Blogging about Equal Rights for Men or writing about Gender Biased Laws is often looked upon as controversial, as many 'perceive' it Anti-Women. Due to this grey area - where we demand Equality in the true sense for all genders - most brands distance themselves from advertising on a portal like ours.
We, therefore, look forward to your support as donors who understand our work and are willing to partner in this endeavour to spread this cause. Do support our work to counter one sided gender biased narratives in the media.
To make an instant donation, click on the "Donate Now" button above. For information regarding donation via Bank Transfer, click here.
Alternately, you can also donate to us via our UPI ID: voiceformenindia@hdfcbank