Gurgaon Police on Wednesday finally arrested 20-year-old Ayushi Bhatia for allegedly extorting money from a man after threatening to implicate him in a rape case if he refused to marry her or pay her money.
This is the same case brought to light by Men's Rights Activist Deepika Narayan Bhardwaj couple of months ago. In the past 15-months, the accused woman has filed eight cases of rape (last one filed recently after complaint against her) against eight different men at seven police stations in Gurgaon – Rajendra Park, Sadar, Cyber, sector 5, New Colony, sector 10 and City.
A closure report has been filed in at least three of the cases. Police said a probe has found that the woman's mother and an uncle were also part of the alleged extortion "syndicate" and are absconding.
Speaking with the Indian Express, Preet Pal Sangwan, ACP Crime, said an FIR was registered against the woman on charges of extortion and conspiracy on December 23 after a resident of Karnal filed a police complaint alleging that she had been blackmailing him and coercing him to either get married or pay her money. The ACP said,
He said that the woman had filed a false rape case against him at DLF phase 3 police station in October after he refused to marry her. During questioning, she claimed that she has filed eight cases of rape in Gurgaon.

Probe has found that the purpose was extortion and her mother and uncle are also involved in the syndicate. Some cases have been cancelled and the charges of rape being levelled by her in other cases are being investigated.
In the FIR registered against the woman, the complainant from Karnal alleged that he got acquainted with her when he rented a house owned by her relative in Gurgaon on October 15. The ACP added,
He alleged that after exchanging numbers, the woman made repeated phone calls to him and put pressure for getting married. On October 24, the man's family met the woman, her mother and an uncle to discuss the matter.

At the meeting, the woman and her family told him that she had filed several rape cases in Gurgaon and if he did not marry her immediately or make a settlement of money, she would file an FIR against him.
The IE report further added that the according to the police, the woman filed a case of rape against him at DLF phase 3 police station on the same day. The ACP said,
She sent him the FIR on WhatsApp, and the following day, told him that if agreed to marry her, she would make a medical excuse and not record her statement in court.
Police said that in most of the rape cases filed by the woman, she has alleged that the accused had raped her on the pretext of marriage.
Police said that so far, two people have filed a complaint of extortion against the woman.
It must be recalled that an SIT had been formed after the intervention of Preeti Bhardwaj Dalal – State Commission of Women Chairperson, directing DGP Haryana to look into the matter at the earliest, then quoting:
If laws are made to protect rights of a person, they can also be misused to throttle the liberty of opponents. 
In November, an SIT, headed by DCP HQ Gurgaon, was formed.
Astha Modi, deputy commissioner of police (DCP), headquarters, who was heading the SIT, said,
As per our probe, out of the eight cases of rape registered by the woman, a cancellation report has been filed in three cases and in one case, the woman had turned hostile and not recorded her statement in court. In four cases, we have filed a chargesheet and a probe is ongoing, and another case is under investigation.

Two people have filed a case of extortion alleging that she had blackmailed them into marrying her and filed a case against them on false charges.
Speaking with MDO, Deepika Narayan Bhardwaj gave credit to the courage of one of the falsely accused men in this case, who came forward and report the matter to police. Bhardwaj quoted,
I give the credits of this arrest to Mahesh, the man who approached me seeking help. If he also didn't speak up, this wouldn't have happened. I also want to thank the mother who filed an FIR on her finally, leading to her arrest. These families rested so much faith in me. I saw the trauma they had been through. I had resolved I will get this girl punished for her deeds.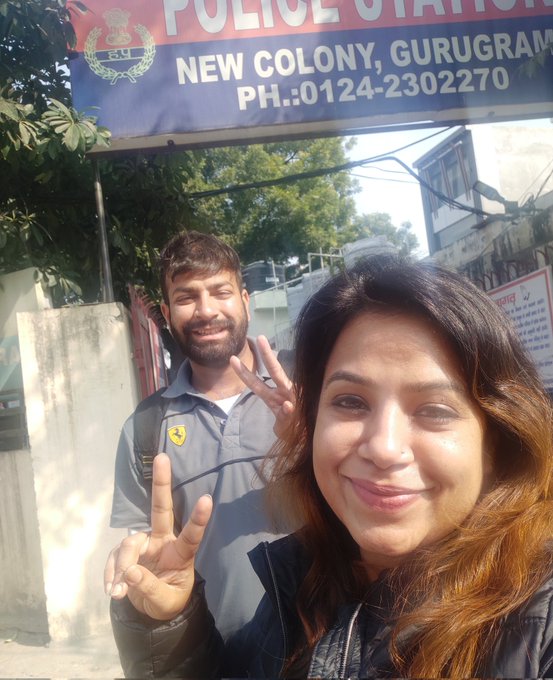 WATCH POLICE STATEMENT
BACKGROUND STORY –
ALSO READ –
ALSO WATCH –
Gurgaon Girl Files 7-Rape Cases On 7-Different Men | Deepika Narayan Bhardwaj
Join our Facebook Group or follow us on social media by clicking on the icons below
Join our Facebook Group or follow us on social media by clicking on the icons below
Donate to Voice For Men India
Blogging about Equal Rights for Men or writing about Gender Biased Laws is often looked upon as controversial, as many 'perceive' it Anti-Women. Due to this grey area - where we demand Equality in the true sense for all genders - most brands distance themselves from advertising on a portal like ours.
We, therefore, look forward to your support as donors who understand our work and are willing to partner in this endeavour to spread this cause. Do support our work to counter one sided gender biased narratives in the media.
To make an instant donation, click on the "Donate Now" button above. For information regarding donation via Bank Transfer, click here.