Filmmaker Anurag Kashyap is the latest entrant to #MeTooIndia Bollywood club! On Saturday, actor Payal Ghosh tweeted charges of sexual harassment against ace filmmaker.
Taking to twitter, 30-year-old Ghosh tagged Prime Minister Narendra Modi and wrote,
@anuragkashyap72 has forced himself on me and extremely badly. @PMOIndia @narendramodi ji, kindly take action and let the country see the demon behind this creative guy. I am aware that it can harm me and my security is at risk. Please help!"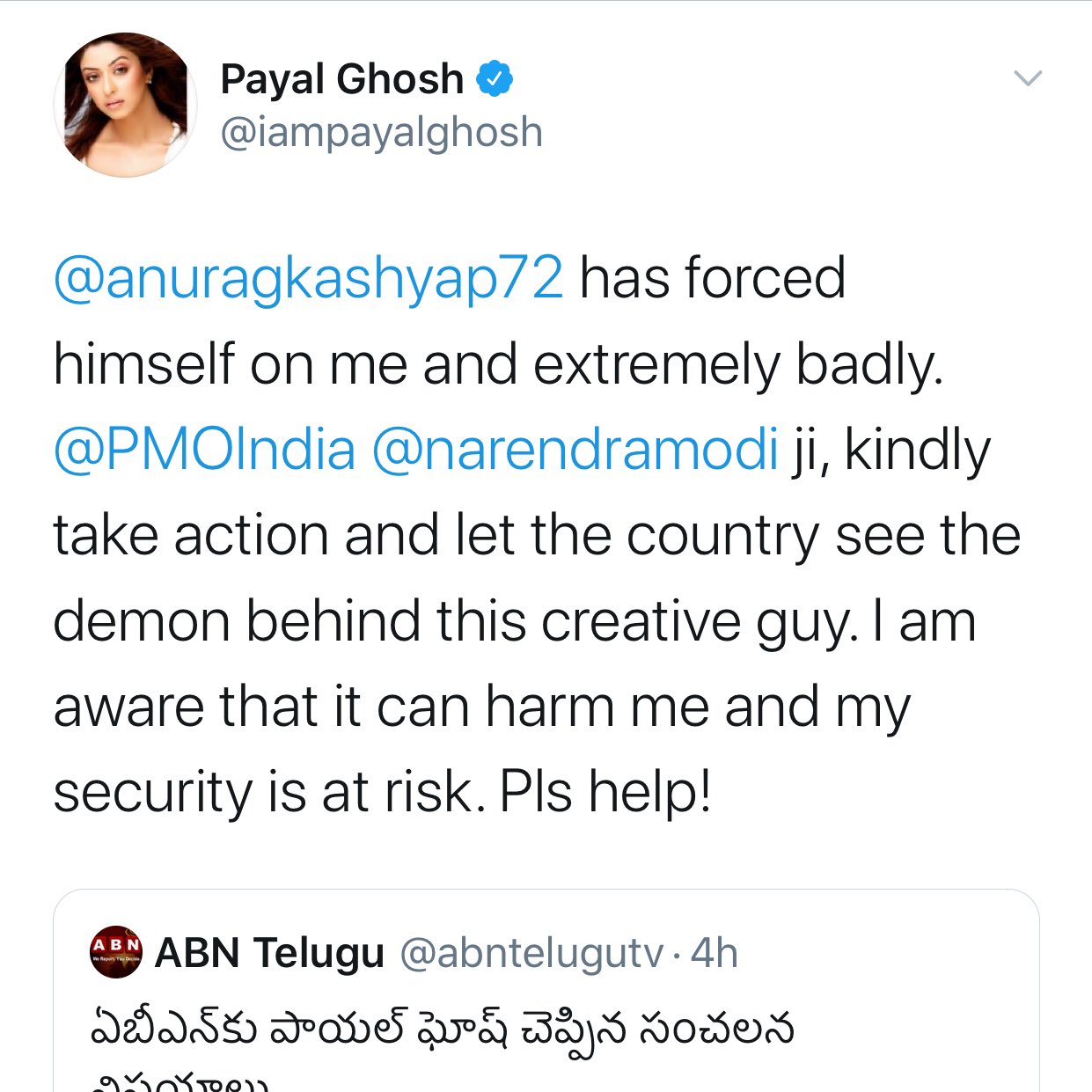 The actor, who made her Hindi debut with Rishi Kapoor-Paresh Rawal starrer "Patel Ki Punjabi Shaadi", also claimed that Kashyap boasted about his connection with megastar Amitabh Bachchan and claimed that there were other female artistes who he got intimate with.
In a video released to ABN Telugu, Ghosh claimed that the incident happened in 2014-2015.
NCW India Chief Rekha Sharma promptly jumped into the matter without being marked on the same. Sharma asked Ghosh to email her the complaint which could be looked into.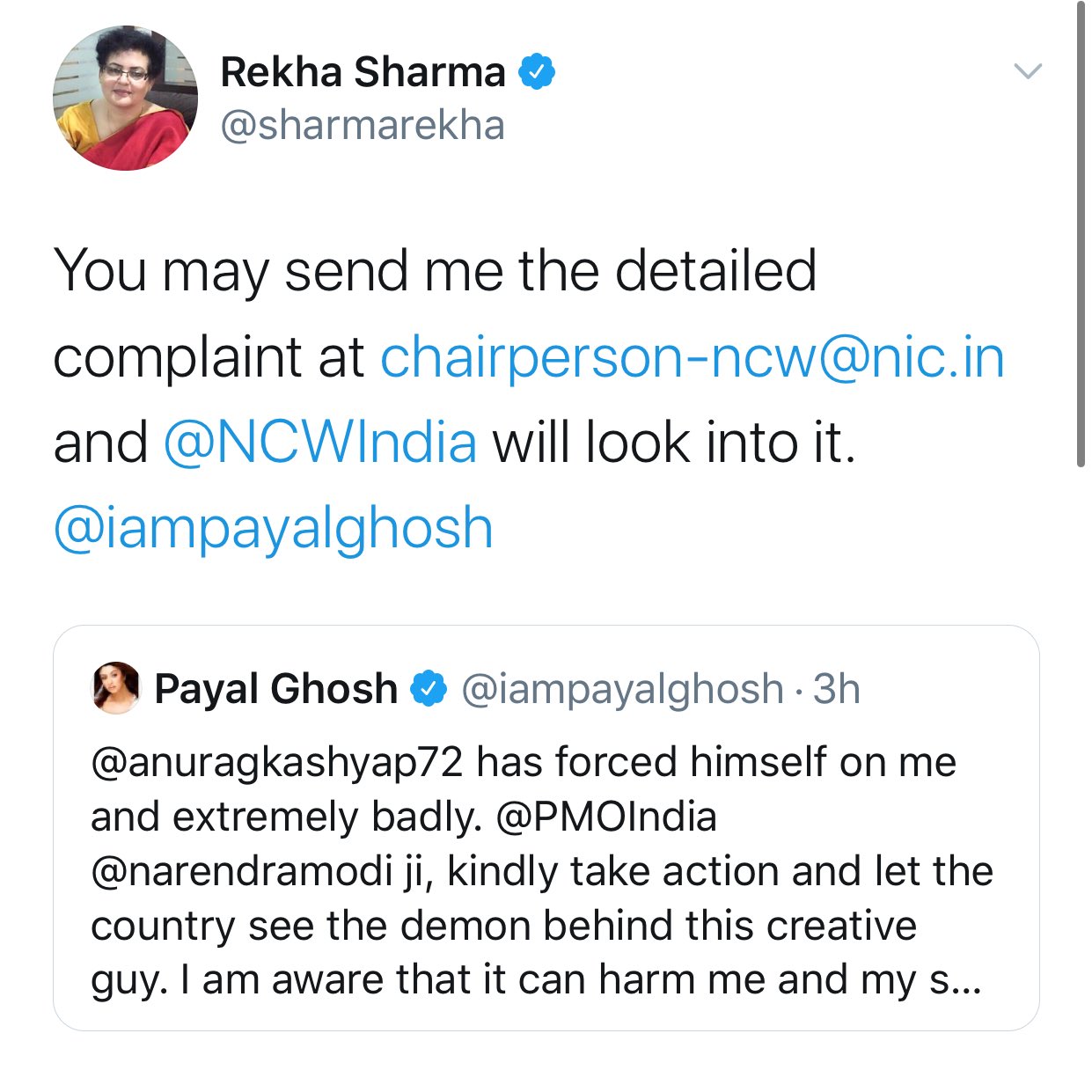 Later at night, Kashyap tweeted his side of the clarification in a series of tweets put out in Hindi. He called all sexual harassment allegations levelled against him by actor as "baseless". Anurag has called this an attempt to "silence" him. He wrote,
Such a long time was taken to shut me up, never mind. (But) while shutting me up, you lied so much that you dragged other women also into it. Please maintain some dignity madam. All I will say is that all your allegations are baseless.
Refuting the claims, Kashyap said the video is a testimony of "how much truth and false" it carries. He added,
While placing allegations against me you dragged my artistes and Bachchan family… Madam, I have been married twice, if that's a crime then I admit to it.  I also admit that I have loved a lot, whether it's my first wife or second.

Any lover or all those female actors with whom I've worked or the team of all those girls and women that have been working with me or all those women I've met in private or in public. I neither behaved like this nor do I tolerate such a behaviour at any cost. Rest we will see what happens.
क्या बात है , इतना समय ले लिया मुझे चुप करवाने की कोशिश में । चलो कोई नहीं ।मुझे चुप कराते कराते इतना झूठ बोल गए की औरत होते हुए दूसरी औरतों को भी संग घसीट लिया। थोड़ी तो मर्यादा रखिए मैडम। बस यही कहूँगा की जो भी आरोप हैं आपके सब बेबुनियाद हैं ।१/४

— Anurag Kashyap (@anuragkashyap72) September 19, 2020
The 48-year-old director has been vocal against the criticism and vilification of Bollywood by celebrities and trolls. Kashyap has also been very vocal against the current Narendra Modi government and many social media users speculate this to be an attempt to demolish the filmmaker's career and image.
Incidentally, another tweet of Ghosh has been doing the rounds, wherein she had recently threatened telecom service provider of a 'mental harassment case' due to some dispute over her Rs 1,709 bill amount.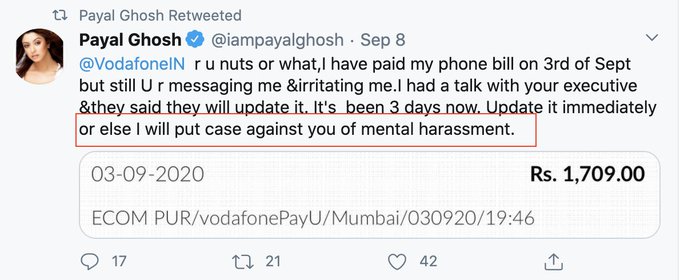 Our Take:
Anurag Kashyap was one of the frontrunners of #MeTooIndia campaign that had broken out in 2018
His former business partner Vikas Bahl was then accused of sexual harassment charges and Kashyap then wore a cap of a righteous filmmaker who dissolved the joint venture with Bahl (Phantom Films)
Kashyap had also changed his twitter profile to the below, where he wanted men to be out of work on mere allegations by women.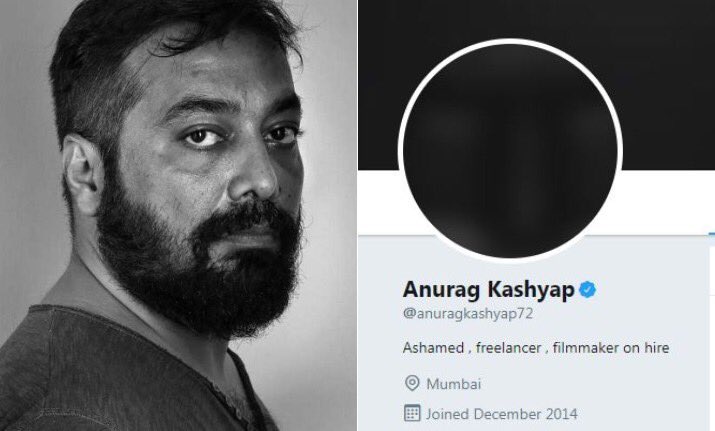 Not just this, Kashyap had also stepped down as a board member of the Mumbai Academy of Moving Image (MAMI) in the wake of sexual harassment charges involving his former partner Bahl.
47-year-old Bahl had then asked for an "unconditional apology" and urged Kashyap and Motwane (third partner) to withdraw the "contradictory" statements made by them on social media. Bahl's lawyers had also accused Kashyap of bribing another employee at Phantom Films to come up with similar allegations against Bahl.
Here's the statement by Kashyap on #MeToo allegations against Bahl in 2018: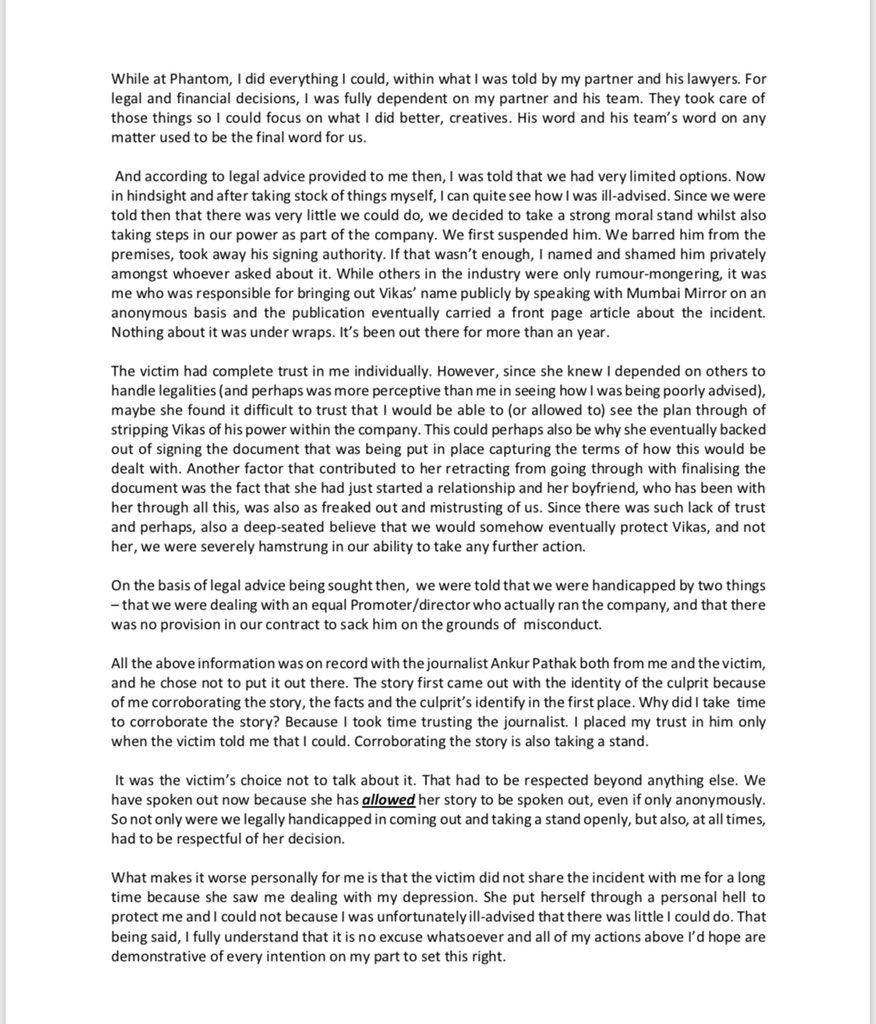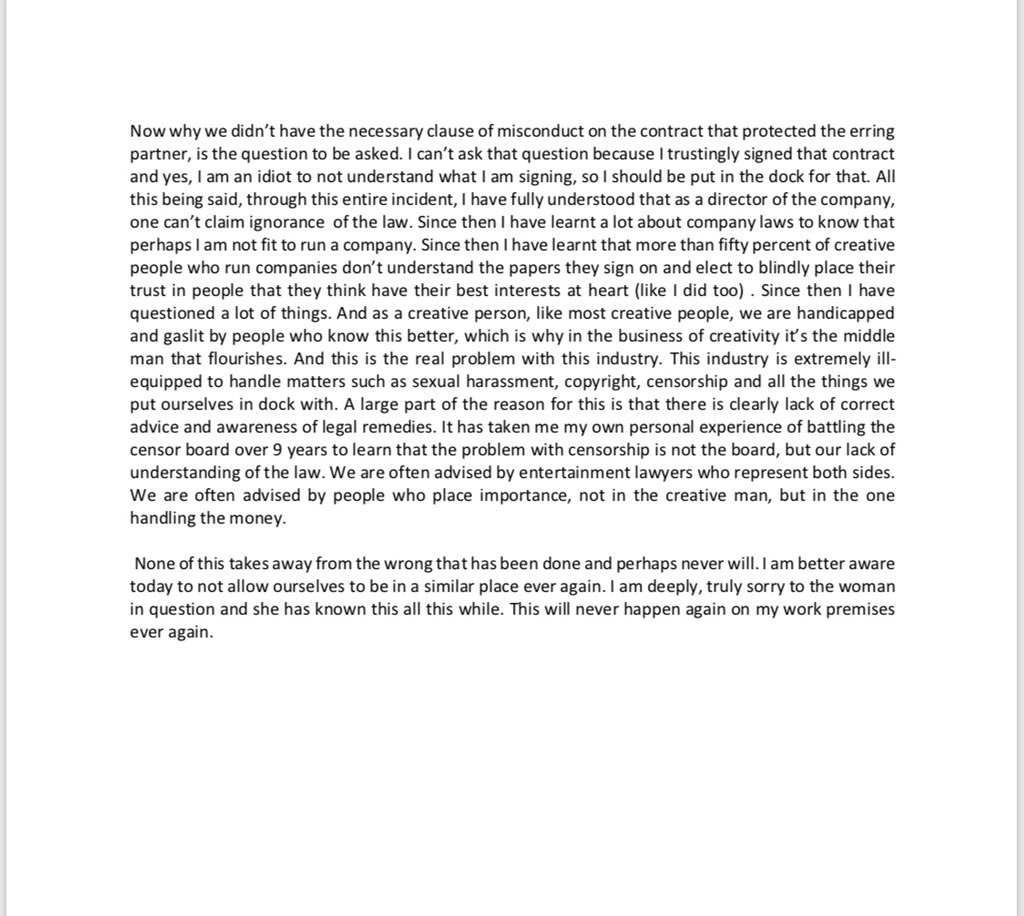 However, when similar charges were made against stand up artist Varun Grover, Kashyap changed his stance completely and came out in his support strongly then. He had then tweeted the below:
When Kashyap was questioned about several women alleging charges on men after many years, he then (2018) quoted:
I cannot talk much. Because at this moment whatever I say may be misconstrued or can be taken in any which way and can be used here (in this case). All these years of my silence (was) to protect one person, the victim. I will take the consequences and I have been taking the consequences. I will take the consequences and I have voluntarily taken consequences and stepped back from the work. I will not explain my actions. My priority is something else.
On being asked what his priority was and if it was to get justice for the victim, Anurag said,
The priority is victim's peace.
Regarding Tanushree and Vinta Nanda being the only ones who have taken legal action, while not many women have followed a similar route, he said,
We are still growing up to it, we are still understanding it. Years of anger will come out and then people will come to know what is the right way. We all will take time to understand. I don't want to say anything further till my non-complicity is proven, I am not qualified to comment on it.
Mr Kashyap cannot play crusader for women's rights when it suits his agenda and become a holy victim of false cases when it backfires on him or his close pals. Its time he faces the same music like his business partner did and steps down from every single professional commitment till charges are cleared against him.
This could also be an opportunity for Kashyap to speak up against the alleged misuse of #MeToo campaign and call for fair trial of all Men in such scenarios. Will he take a stand for #MenToo?
DO WATCH
Interview with father from Gurugram who lost his only 17-year-old son on charges of alleged #MeToo
ALSO READ –
http://voiceformenindia.com/his-story/swaroop-raj-genpact/
We are now on Telegram. You can also join us on our Facebook Group
Join our Facebook Group or follow us on social media by clicking on the icons below
Donate to Voice For Men India
Blogging about Equal Rights for Men or writing about Gender Biased Laws is often looked upon as controversial, as many 'perceive' it Anti-Women. Due to this grey area - where we demand Equality in the true sense for all genders - most brands distance themselves from advertising on a portal like ours.
We, therefore, look forward to your support as donors who understand our work and are willing to partner in this endeavour to spread this cause. Do support our work to counter one sided gender biased narratives in the media.
To make an instant donation, click on the "Donate Now" button above. For information regarding donation via Bank Transfer, click here.
Alternately, you can also donate to us via our UPI ID: voiceformenindia@hdfcbank