In a shocking incident reported from Andra Pradesh, a 21-year-old woman attacked her fiance with a sharp-edged weapon and slashed his throat on Monday. The man, who was attacked at Amarapuri village in Kommalapudi of newly-formed Anakapalli district, is critical but stable.
Here's What Happened
Ramunayudu, 25-year-old man from Visakhapatnam, is working as a scientist in CSIR, Hyderabad. On April 06, he got engaged to a woman named Pushpa from Kommalapudi village and the couple were to get married on May 29 this year, as reported by BBC Telegu.
This is why Ramunayudu recently came to Visakhapatnam from Hyderabad. However, the woman reportedly did not want to marry him, and had agreed to the engagement only after pressure from her family.
Woman Attacks Fiancé With Knife – Police Statement
On Monday afternoon, the girl called her fiance to an ashram on a hill in Amarapuri on the pretext of introducing him to her friends. Both spent about an hour at the ashram. While they were returning home in the evening, she stopped at an isolated spot, and asked him to close his eyes so that she could give him a surprise gift. She then tied her duppatta around the victim's eyes, slashed his throat and left the spot, reported TOI. 
Hearing his cries for help, some locals rushed to the spot and shifted him to a primary health centre at Ravikamatham, from where he was shifted to NTR hospital in Anakapalli, where his condition started deteriorating due to excessive loss of blood and suspected injuries to his veins. He is likely to be shifted to KGH in Vizag later in the night.
Statement By Accused Woman
When police spoke to the woman, she reportedly told them he fell from his bike and got injured. But the victim, just before losing consciousness, told cops that he was attacked with a knife by his would be wife. Cops said they will take further steps after conducting a preliminary investigation.
Statement By Victim
Speaking with BBC Telegu, Ramunayudu said,
My fianceé called me to see if I could visit her hometown once. This is why I went to Kommalapudi. On the way home, she took me to a Sai Baba temple on a hill to talk to me. She then said….I'll give you a surprise…She told me to close my eyes. I closed my eyes.

Immediately she cut my throat with a knife. She was still there even after the throat was cut. Bleeding …I immediately called 108 for help. They took me to the hospital.
At present, no case has been registered against the girl, reported BBC Telegu.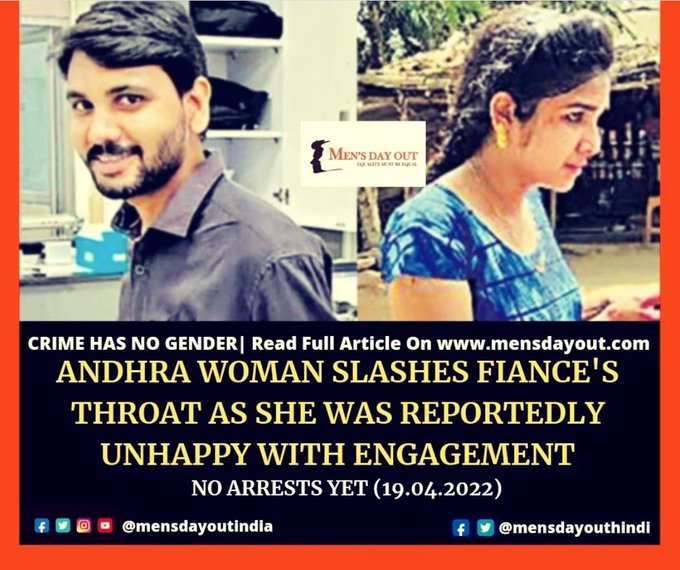 Did you see any social media outrage? Leave your comments below…
Andhra Woman Slashes Fiance's Throat As She Was Reportedly Unhappy With Engagement | Would Be Husband Critical

▪️Man gave statement accusing Would be Wife
▪️Woman said he fell down from bike
▪️No arrest by @APPOLICE100 #GenderBiasedLaws #SpeakUpMenhttps://t.co/GYzc6BwXGr

— Men's Day Out (@MensDayOutIndia) April 19, 2022
ALSO READ –
17-Year-Old Girl, Her Boyfriend Arrested For Murdering Parents Who Objected To Her Love Affair
Teenage Girl Murders Her Father Along With 19-Yr-Old Boyfriend; Cooks Up Accidental Death Story
WATCH VIDEO | Woman Throws Acid On Man Inside Train Near Bhopal; CRIME HAS NO GENDER
Separated Woman In Coimbatore Throws Acid On Ex-Boyfriend Who Refused To Marry Her
WATCH VIDEO | Kerala Married Woman Throws Acid On Boyfriend's Face For Rejecting Marriage Proposal
WATCH REPORTING BY LOCAL MEDIA (In Telegu):
Woman cuts throat of her fiancé in Anakapalle, India. Crime has no gender. Yet, media blurs the face of the criminal and shows the face of the victim.Because criminal is a woman & victim is a man.Bias media#Crimehasnogender #Nosafetyformen #Savemenfromwomen #men #women #sakshi pic.twitter.com/y2Yb9v66ty

— K Phanindra Kumar (@kphanik28) April 19, 2022
ALSO WATCH –
Haryana | Girl Throws Acid On Hisar Boy As He Wanted To Delay Marriage For Higher Studies
Join our Facebook Group or follow us on social media by clicking on the icons below
Donate to Voice For Men India
Blogging about Equal Rights for Men or writing about Gender Biased Laws is often looked upon as controversial, as many 'perceive' it Anti-Women. Due to this grey area - where we demand Equality in the true sense for all genders - most brands distance themselves from advertising on a portal like ours.
We, therefore, look forward to your support as donors who understand our work and are willing to partner in this endeavour to spread this cause. Do support our work to counter one sided gender biased narratives in the media.
To make an instant donation, click on the "Donate Now" button above. For information regarding donation via Bank Transfer, click here.