The horrific accident of Delhi based woman Anjali Singh is still giving chills to everyone who has watched that video. In the meanwhile, yet another dreadful incident has come to light, this time from Noida.
A food delivery agent has become the latest prey to another hit and run case in the NCR, where he was dragged for nearly 500 meters after his two wheeler was hit by a car. The victim died on the spot.
Greater Noida: 25-Year-Old Man Dies By Suicide On Wedding Anniversary Alleging Threats Of False Dowry Harassment Case By Wife, In-Laws
Case:
Kaushal Yadav worked at Swiggy and was out for food delivery on New Year's night on Sunday, when a car hit his two-wheeler near a flyover in Noida Sector 14.
According to some eyewitnesses, the driver of the car only stopped near a temple, which was 500 meters away from the accident spot. Shockingly, the accused drove off and fled the scene, after Kaushal's body was thrown aside.
Kaushal's brother Amit dialed his number at around 1am and this is when a passerby received the call and informed him about the accident.
Noida Man Ends Life Alleging Constant Alimony Demand of Rs 60 Lakh By Wife, In-Laws
Police Statement
Speaking with media, officials confirmed that a case has been filed based on a complaint filed by Amit and investigation is on. The official said,
We are scanning the CCTVs installed in the area to trace the accused.
Ex-Navy Man Murdered By Wife & Son, Body Chopped Into 6 Parts | Domestic Violence Has No Gender
Statement by Swiggy
Swiggy has expressed their solidarity with Kaushal's family and extended financial and legal support. A spokesperson of the food delivery company said,
We are deeply saddened by the loss of our delivery partner Kaushal Yadav in a heartbreaking incident on January 2nd. We are in constant touch with his family members and doing everything in our capacity to expedite this case, including processing insurance and offering legal support to his family.
Ghaziabad Woman Murders Live-in Partner Because He Refused To Marry Her | NO MEANS NO FOR MEN TOO
VFMI Take:
Any loss of life is a terrible irreparable trauma for the loved ones of the deceased
Sadly, mentality of the society has become limited to expressing anger and hate only when the victim is a woman
While the death of Anjali Singh is extremely gruesome, many, including women rights activists, turned the case giving it a colour of gender
As media is playing the story of Anjali virtually 24/7, victims like Kaushal Yadav and his family may not even make it to primetime debate
After #AnjaliSingh's Horrific Accident, Swiggy Delivery Man Dies After Getting Dragged By Car For 500 Meters

▪️While both incidents are extremely traumatic, victims like Kaushal Yadav will never make it to prime time
▪️Stop Gender Politics#VoiceForMenhttps://t.co/IATXsk11iR

— Voice For Men India (@voiceformenind) January 5, 2023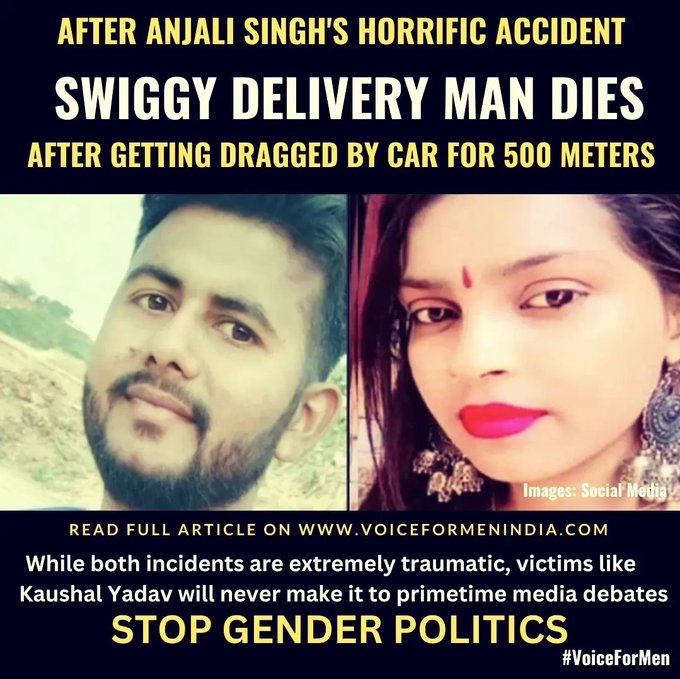 MUST WATCH:
Noida Uber Driver Records Lady Passenger Giving Him Threats Of False Molestation Case
MUST READ:
Bengaluru Woman Alleged Assault | Zomato Delivery Man Shares His Side Of Story
Join our Facebook Group or follow us on social media by clicking on the icons below
Donate to Voice For Men India
Blogging about Equal Rights for Men or writing about Gender Biased Laws is often looked upon as controversial, as many 'perceive' it Anti-Women. Due to this grey area - where we demand Equality in the true sense for all genders - most brands distance themselves from advertising on a portal like ours.
We, therefore, look forward to your support as donors who understand our work and are willing to partner in this endeavour to spread this cause. Do support our work to counter one sided gender biased narratives in the media.
To make an instant donation, click on the "Donate Now" button above. For information regarding donation via Bank Transfer, click here.