Many people today are so busy with day-to-day schedules that taking time off work to be with their aging parents is difficult. Even if you are well intended, it becomes tougher, if you are not living in the same city or vicinity where your parents are living.
Nonetheless, what does it take to become so uncaring and ruthless, that you not just cut off ties, but also leave your senior citizen and old parents to live a lonely, isolated and hellish life?
A video shared by a Delhi MLA is going viral where the elderly gentlemen, perhaps who is 80+ years old, is crying and narrating his ordeal at this stage of life. With tears rolling down his eyes, the old man says,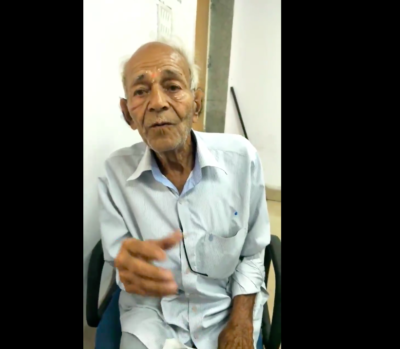 I was a king, have now become a pauper. Both my son and daughter took away everything that I had and left me here all alone. My son lives in Canada, had come a few days ago and took away his mother's jewelry worth Rs 10 Lakhs. My daughter lives in Delhi who is herself filthy rich (owner of Paras Jewelers), but is pressuring me for giving her my home.

I don't have money to even eat…..
मैं बादशाह था,फ़क़ीर हो गया.. मेरी औलाद मेरा सब कुछ लेकर मुझे अकेले छोड़ गई, बेटा विदेश तो बेटी बचा मकान मांगती हैं,खाने को पैसा नही,कहते कहते रुओ पड़ा यह बुजुर्ग.. आज से ही हर महीने 2000₹ मदद/पैंशन देने की शुरुआत की,जिन्होंने इस बुजुर्ग की जिम्मेदारी ली उनका दिल से शुक्रिया?. pic.twitter.com/Bdlee84OQo

— Alka Lamba – अलका लाम्बा (@LambaAlka) July 31, 2019
There is absolutely no excuse to pardon children who behave in this way:
Firstly, it is your absolutely duty to ensure safety, security and happiness of your parents till they are alive
If you are too occupied that you can't even spare time to call them or see them, at least ensure that they are not left at the mercy of neighbours
Hire a help who can look after them if you do not and cannot do this job; secure them monetarily
We don't believe in age old lecture that 'they raised you when you were young, now they need you…..etc'.
If you don't feel for your own parents from within, no amount of taunt or lecture can change your thoughts
Worst is, if you cannot give them anything, you do not have the entitlement to demand your default rights over their assets
Isolation, loneliness, and boredom are the most common issues among elderly people. It may be compounded by mobility issues. It gets even terrible, when they see their friends passing away.
Emotions cannot be forced within grown up children if they have already decided not to treat their elderly parents caringly, however, we do hope that India must come up with strictest laws and provisions to ensure respectable life for old people who have been abandoned by their own offsprings.
ALSO READ –
http://voiceformenindia.com/in-the-law/ill-treatment-senior-citizen-mother/
Join our Facebook Group or follow us on social media by clicking on the icons below
Donate to Voice For Men India
Blogging about Equal Rights for Men or writing about Gender Biased Laws is often looked upon as controversial, as many 'perceive' it Anti-Women. Due to this grey area - where we demand Equality in the true sense for all genders - most brands distance themselves from advertising on a portal like ours.
We, therefore, look forward to your support as donors who understand our work and are willing to partner in this endeavour to spread this cause. Do support our work to counter one sided gender biased narratives in the media.
To make an instant donation, click on the "Donate Now" button above. For information regarding donation via Bank Transfer, click here.
Alternately, you can also donate to us via our UPI ID: voiceformenindia@hdfcbank