A young man from Jaipur, Rajasthan ended his life within one-year of marriage. The deceased has left suicide videos accusing his in-laws of harassment and threats, which led him into depression.
Case:
25-year-old Mukesh Kumar Tok, resident of Jaipur, had a love marriage with Roopam Mundhra in January 2022. Mukesh worked as a chef at a restaurant in the city, while Roopam was a Chartered Accountant by profession. Both were living happily and had a settled life together.
However, couple of months ago, the wife suddenly left for her parents' home without informing husband, while he was away for work. Mukesh tried to contact Roopam constantly, but she refused to return. 
Rajasthan | Airforce CPL Dies By Suicide Accusing Wife & In-Laws Of Mental Harassment; Got Married 3-YRS Ago
Husband Ends Life
On January 04, 2023, Mukesh ended his life by hanging himself at home. Before taking the extreme step, Mukesh left videos and a note stating that his wife was innocent, however, it was his in-laws who were solely responsible for his condition.
In his first video, Mukesh expressed,
Roopam please come back. I am very upset. My brain is not working. I am out of my mind. I am unable to understand. What shall I do? If I don't have you in my life, I have nothing to live for….I will keep you happy. Please come back….Talk to me once, I don't want anything else. 
In the second video made by Mukesh, he named and accused his in-laws for driving him to suicide. He said,
My name is Mukesh Kumar Tok. The reason I am committing suicide today is because of Roopam's entire family. Roopam's family members give me very bad threats. They threaten me everyday that they will kill me. Everyday they tell me to leave their daughter, remove her photo, remove her ID, otherwise they will shoot me. They keep threatening to defame me and destroy my family. I am dying everyday.
30-Year-Old Jaipur Man Ends Life After Wife Elopes With Ex-Husband Within Two Months Of Marriage
Adding further Mukesh said,
Jagdishchandra Mundhra, Ramjas Mundhra, Roopam's mother Kaushalya, Parth, Mahesh Kumar, Bhavna Mundhra, Neeraj Maheshwari and Vishal Mundhra are troubling me. Vishal has taken a lot of money from me. Roopam, you take account of my money from Vishal Bhai.

Ask your family members why did they threaten me so much? You are kept in the dark and do not know what they are doing behind your back. You don't know, I have been tortured everyday. That's why I'm killing myself.
Mukesh categorically added that no one should blame his wife for his death as she was not at fault. He urged his wife to inform the police how her family tortured him.
Rajasthan Man Allegedly Ends Life As Wife Refuses To Return With Child
Police Statement
Jaipur police station in-charge Dulichand Gurjar informed media that after Mukesh's suicide, his younger brother Ashok Radheshyam Tok has registered a case of abetment to suicide against Roopam's father Ramjas Mundhra, mother Kaushalya, Partha Mundhra, Ghanshyam Gaur, Vishal Mundhra, Mahesh Mundhra and Ankit Mundhra. Matter is under investigation. 
Suicide Prevention Helpline
Men in distress due to family problems or facing threats of false cases from in-laws can contact either of the Men's Rights NGOs:
You can also contact Government of India 24×7 toll-free mental health rehabilitation helpline '
KIRAN

' on 1800-599-0019
#Rajasthan | 25-Year-Old Jaipur Man Dies By Suicide Within One Year Of Marriage Accusing In-laws Of Harassment & Torture

▪️"In-laws threaten me…Everyday they tell me to leave their daughter, else they will defame & destroy my family. I'm dying daily"https://t.co/rnP92MSxvc

— Voice For Men India (@voiceformenind) January 9, 2023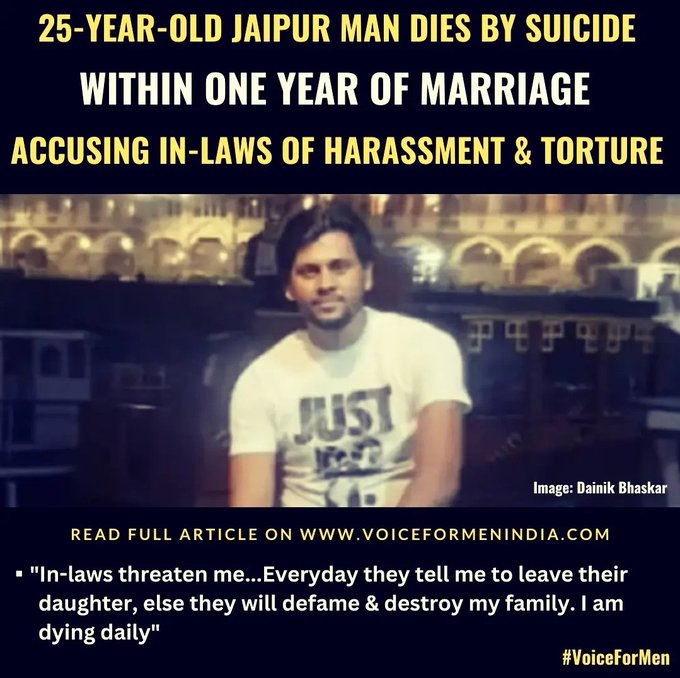 WATCH VIDEO:



Hyderabad Man Dies By Suicide Due To Alleged Harassment By Wife, In-Laws
Join our Facebook Group or follow us on social media by clicking on the icons below
Donate to Voice For Men India
Blogging about Equal Rights for Men or writing about Gender Biased Laws is often looked upon as controversial, as many 'perceive' it Anti-Women. Due to this grey area - where we demand Equality in the true sense for all genders - most brands distance themselves from advertising on a portal like ours.
We, therefore, look forward to your support as donors who understand our work and are willing to partner in this endeavour to spread this cause. Do support our work to counter one sided gender biased narratives in the media.
To make an instant donation, click on the "Donate Now" button above. For information regarding donation via Bank Transfer, click here.
Alternately, you can also donate to us via our UPI ID: voiceformenindia@hdfcbank